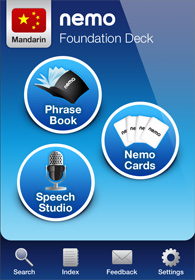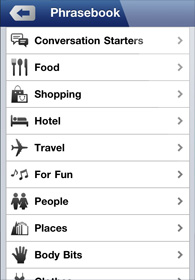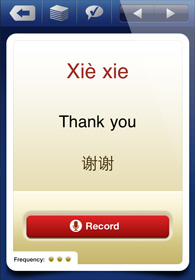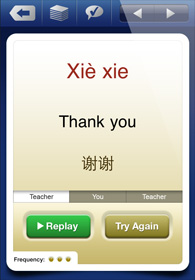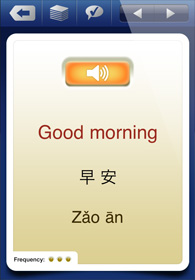 Nemo Language Apps
Turn your iPhone, iPad or Android phone into
your favorite teacher of foreign languages
It's never been easier to learn a foreign language
Sitting on the train? Pedaling in the gym? Winding down for the evening? Learn whenever and wherever it's most convenient for you.
Nemo is NOT BUILT AROUND LESSONS at all. It is meant to be picked up and put down throughout the day, whenever you have a few minutes to spare. 
Nemo is easy to use, just flick through a deck of cards or a stack of tiles, each one with a useful word or phrase.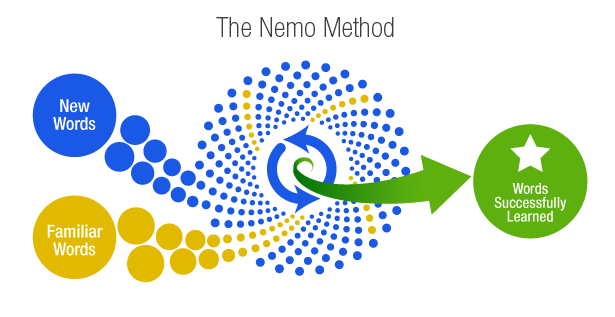 Nemo introduces words to you progressively to develop familiarity and reviews them at the right moment so they enter your LONG TERM MEMORY. 
Nemo is specially DESIGNED to tap the remarkable power of your mobile device, and your brain, to their fullest. 
Start speaking like a native
Master your accent with the Speech Studio. Simply record yourself saying a phrase and then hear your voice next to the teacher's. You'll be AMAZED how quickly your foreign accent melts away.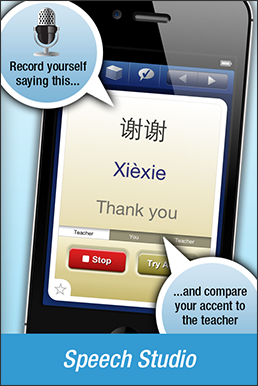 Personalized for You
Nemo is your personal trainer, tracking your PROGRESS across every single word and phrase.
Dive into WHAT YOU WANT to learn at any time.
You control which words to focus on – skip words you don't want to learn or already know. 
Practice the langauge the way you'll use it
Practice remembering a phrase
Practice pronouncing a phrase
Practice reading in foreign alphabets
Practice your listening comprehension

Bedtime Mode
Turn on Night Review Mode to recap what you practiced earlier in the day to BOOST your memory retention.
Ideal audio for learning
Every word and phrase in the app is pronounced clearly by a professional voice artist who speaks the foreign language natively.
All audio is downloaded to the device and available without network access. Keep learning even when your device is in airplane mode or the hotel doesn't have wifi.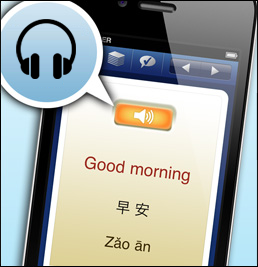 Doubles as a Translator
Need to say something and don't know it? Or some new words on the tip of your tongue?
Find them in a flash with Nemo's search, index, and phrasebook features, then show them or play them for your foreign friend.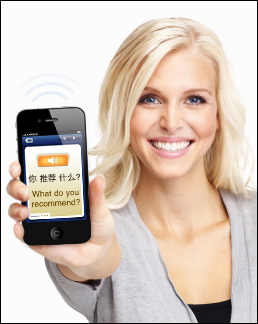 Focus on the right words
When learning a new language, maximize your investment in time by focusing on its most common words. We've prepared a set of high frequency words and phrases that you can start speaking immediately, every day, even if you don't know any grammar.
When you are ready to advance, install the Foundation Pack to build your foundation in the language, empowering you to speak confidently in everyday conversations.
Get off the beaten path or find comfort with directions, travel and hotel phrases.
Decode menus with the most common FOOD words.
Shop and find bargains like an insider with must-know SHOPPING phrases.
Build your proficiency with the most important SENTENCE BUILDING BLOCKS.
Spark new friendships with COMPLIMENTS and CONVERSATION STARTERS.
Download the free app to get these topics:
If You Only Learn 10 Things
If You Only Learn 50 Things
If You Only Learn 100 Things
Hello & Goodbye
Essential Phrases
Essential Words
Basic Questions
From inside the free app, install the Foundation Pack to add these topics:
Directions
Time & Date
Numbers & Units
Conversation Starters
Food
Shopping
Money
Hotel
Travel
For Fun
People
Places
Body Bits
Clothes
Tech & Communication
Compliments
Love & Kisses
Problems
Colors
Weather
The World
You, Me & Ours
Describe It
Sentence Patterns
Sentence Building Blocks
Handy Nouns
Useful Verbs